To Eliminate Pests, My Raksha is The Best.
Termite Control Services in Bangalore
Enquire Now: 8880200200
Licensed, Insured and Certified
Safe and Eco-Friendly Methods
Free Inspections & Consultation
Specialize Team in Certain Pests
Customer Satisfaction Guaranteed
Hassle-Free Controling Experience
Comprehensive Termite Control Services in Bangalore by My Raksha
When it comes to protecting your property from the destructive nature of termites, it's crucial to rely on professional termite control services. In Bangalore, where termite infestations are a common concern, My Raksha is your trusted partner in safeguarding your home or business. Our experienced team of certified termite exterminators utilizes effective and eco-friendly methods to provide the best termite treatment services in Bangalore. In this blog, we will explore the various aspects of termite control, highlighting My Raksha's expertise in addressing termite infestations in residential and commercial settings.
Termite Extermination in Bangalore
My Raksha specializes in termite extermination in Bangalore, offering targeted solutions to eliminate termites from your property. Our trained technicians conduct a thorough inspection to identify termite colonies and assess the extent of the infestation. Using advanced techniques and industry-grade products, we employ proven strategies to eradicate termites, ensuring long-lasting results.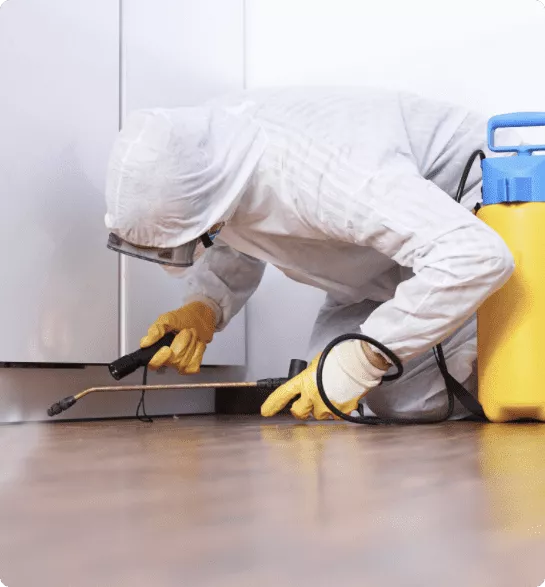 Professional Termite Control in Bangalore
As a professional termite control service provider in Bangalore, My Raksha understands the unique challenges posed by termite infestations. We have a team of skilled professionals who are well-versed in the behaviour and biology of termites. With our expertise, we develop customized treatment plans tailored to your specific needs, delivering exceptional results that protect your property from further damage.
Best Termite Treatment Services in Bangalore
At My Raksha, we take pride in offering the best termite treatment services in Bangalore. Our comprehensive approach combines the use of advanced technology, eco-friendly products, and skilled technicians to provide effective termite control solutions. Whether you're dealing with subterranean termites, drywood termites, or any other termite species, we employ targeted treatment methods that ensure complete eradication.
Effective Termite Eradication Bangalore
My Raksha understands the urgency of effective termite eradication in Bangalore. Our team is equipped with the knowledge and tools to quickly address termite infestations and minimize the potential damage to your property. By targeting the root cause of the infestation and implementing appropriate treatment measures, we ensure that termites are completely eliminated, giving you peace of mind.
Residential Termite Control Bangalore
Protecting your home from termite damage is of utmost importance. My Raksha offers specialized residential termite control services in Bangalore, catering to the unique requirements of homeowners. We conduct a comprehensive assessment of your property, implement preventive measures, and utilize safe and effective treatments to safeguard your home against termites.
Commercial Termite Removal Services Bangalore
For businesses in Bangalore, termite infestations can be detrimental to operations and reputation. My Raksha provides commercial termite removal services that are tailored to the specific needs of your business. Our team works discreetly and efficiently to eliminate termites without disrupting your business activities, ensuring a pest-free environment for your employees and customers.
Termite Pest Control Companies in Bangalore
When searching for termite pest control companies in Bangalore, My Raksha stands out as a reliable and trustworthy choice. Our reputation is built on years of experience, customer satisfaction, and a commitment to delivering exceptional service. We prioritize your safety and comfort, providing efficient termite control solutions that meet the highest standards in the industry.
Affordable Termite Control Solutions in Bangalore
My Raksha believes in providing affordable termite control solutions in Bangalore without compromising on the quality of service. We offer competitive pricing and transparent cost structures, ensuring that termite treatment is accessible to all. Our goal is to deliver effective solutions that fit within your budget, giving you the best value for your investment.
When it comes to termite control services in Bangalore, My Raksha is your trusted partner. With our expertise, professionalism, and commitment to customer satisfaction, we deliver effective solutions to eliminate termites and protect your property. From termite extermination and best treatment services to residential and commercial control, we have you covered.
By choosing My Raksha, you benefit from the knowledge and experience of certified termite exterminators in Bangalore. We employ eco-friendly termite control methods to ensure the safety of your surroundings while effectively eradicating these destructive pests.
Don't let termites wreak havoc on your property. Contact My Raksha today for professional and affordable termite control solutions in Bangalore. Our team is ready to assess your situation, develop a personalized treatment plan, and provide you with a termite-free environment.
How do I know if I have a termite infestation?
There are several signs that indicate a termite infestation. Look out for mud tubes on walls, hollow-sounding wood, discarded wings, or small piles of frass (termite droppings). If you notice any of these signs, it's crucial to seek professional help for a proper inspection and identification.
Why should I choose My Raksha for termite control services in Bangalore?
At My Raksha, we are dedicated to providing effective termite control services with a focus on customer satisfaction. Our team of trained experts has extensive knowledge and experience in dealing with termite infestations. We use advanced techniques and eco-friendly methods to ensure the complete eradication of termites while prioritizing the safety of your property and the environment.
Are the termite control treatments safe for my family and pets?
Yes, at My Raksha, we prioritize the safety of your family and pets. We use termiticides and products that are approved and safe for residential use. Our team follows industry best practices to minimize any potential risks during the treatment process. You can trust us to provide effective termite control while maintaining the well-being of your loved ones.
Do you offer warranties or guarantees on your termite control services?
Yes, we stand behind the quality of our work. My Raksha offers warranties and guarantees on our termite control services. The specific terms and coverage will be discussed and outlined in the service agreement. Our goal is to ensure your complete satisfaction and provide long-term protection against termites.
Can you handle termite control for both residential and commercial properties?
Absolutely! My Raksha is experienced in providing termite control services for both residential and commercial properties in Bangalore. Whether you need termite extermination for your home, office, restaurant, or any other commercial space, our team is equipped to handle it efficiently and effectively.
How do I schedule an inspection or request termite control services?
Scheduling an inspection or requesting termite control services from My Raksha is easy. You can reach out to us through our website, phone call, or email. Our friendly customer service team will assist you in setting up an appointment at your convenience. We will promptly assess your situation, provide a detailed plan, and initiate the termite control process.
Are your termite control solutions eco-friendly?
Yes, at My Raksha, we prioritize environmentally friendly termite control solutions. We utilize modern techniques and products that are safe for the environment. Our team follows sustainable practices to minimize any impact on the ecosystem while effectively eliminating termites from your property.
How can I prevent termites from reinfesting my property after treatment?
My Raksha provides post-treatment recommendations to help you prevent termite reinfestations. These may include regular inspections, maintaining proper ventilation, eliminating moisture sources, and addressing any wood-to-soil contact. Our team will guide you on effective preventive measures to keep your property termite-free.